Written by: Sherman Wong (Photos by: Marcus Goh)
Interview with Kevin Foo
As I sat down for a conversation with Kevin Foo — Co-Founder of Beep Studios, Umami Records, and Foundation Music — I was taken by how unassuming he is. I met Kevin at Oceania HQ (a cosy home studio owned by local Producer-DJ MMXJ) and was immediately drawn to the humility he exudes and the heart he has for the local music scene. Despite having had a hand in the careers of numerous local artists, such as Charlie Lim, Linying and The Steve McQueens, Kevin has no air about him. He talks about each artist as if they were family; he recounts each step of his journey as if they were gifts undeserved. 
In an interview with SELAH, Kevin shares about his lessons learnt from the past and his present hopes for the local music industry. As he transitions to Taiwan for a new role, he also delves into what God has in store for him in the near future.
How did you get involved in the local music scene?
I started in the 90's playing in a band called Starfish. At that point of time, it was never about being in the music industry; none of us had the belief that it was possible to do music "for real." When we wanted to record an album, we got to know Dr Sydney Tan, the current music director of the National Day Parade. Despite our tiny budget, he agreed to produce the album, on the condition that someone in the band (which eventually became me) learn how to edit and clean up the recordings. 
Through this process, I developed a love for what happens behind-the-scenes. When I was in university, I would volunteer at Sydney's studio, coiling cables and pouring coffee for guests. Back then, Sydney was already working with the likes of Dick Lee and Tanya Chua — it was an eye-opener for me. After helping out for a couple of years, Sydney challenged me to do something about all the gear that I had accumulated; this spurred me on to start what became The Loft Studios in 2004.
At the beginning, we focused on Christian work, which included worship songs and Alarice's first EP. As our business grew, we decided to dabble in management and label work, which resulted in starting Umami Records in 2013. It was an arduous process in the beginning, having worked countless hours for little returns. Fortunately, digital music companies started to centre on localisation in 2014-2015; Apple Music and Spotify started opening local offices, allowing us to work with them more closely. Since then, we've been fortunate to do more, including releasing the music of and managing the likes of Linying, The Steve Mcqueens, MMXJ, Evanturetime, as well as co-managing Charlie Lim with Universal Music. 
You've co-founded several companies — Umami Records, Beep Studios, and Foundation Music. What was the vision behind these companies?
To be absolutely frank, the vision was much clearer with Beep Studios. Very few people know of this, but we got the name "Beep" when my partners and I were praying, and during this time we felt drawn to the book of Ephesians. While the first three chapters of Ephesians describes Paul preparing the followers of Christ, chapters 4-6 focused on works and deeds. We realised that one's identity comes before works. In order to do something, you first need to know who you are. Before you "Do," you "Be," and therefore "Beep" was a reminder to "Be, as according to Ephesians." In the music industry at large, people often tell you to chase trends, but when you do so without thinking it through thoroughly, you sometimes miss the heart of the matter. 
These companies carry a strong focus on genuine relationship and community. Is this something you hold close to your heart?
We've never articulated this conceptually but it's something that the original team at Beep Studios held closely to. We believed in a model where the core group of people ministers and disciples, just like how Christ was with his disciples. For me, it was also about empowering my co-leaders to succeed in their roles. 
What is the hardest and most rewarding thing about working in the local music industry?
To create a sustainable career in local original music, while retaining a reputation of being ethical and aboveboard, has always been the hardest thing to me in this industry.
The most rewarding thing for me is seeing people achieve a fruitful career in music. I've gone to many panels where people tell me that you cannot make money doing music in Singapore. I'm proud to say that there are local musicians — such as Charlie Lim, Linying, SMQ and more — who are proving such a statement wrong. While a bunch of them also teach vocal lessons, coach jazz ensembles, or lecture part-time at music schools on the side, all of them surround their lives with music and make it work in whatever capacity possible.
How has your faith affected the way you approach work?
To me, there shouldn't be a difference whether you are working in or out of the church. I've never put it out there that I am a believer, but I have had opportunities to talk to individuals in the industry who are struggling with their faith and encourage them. For me, it's simply about lending a listening ear wherever I am and sharing my own journey. 
Another value of mine is to make a choice and stick by it. It might sound old-fashioned, but I choose not to take part in vices. It does not water down your quality of work just because you choose not to partake in them. That said, there's no need to blow your own horn about it — be the salt and light in the ways you can. 
What are some important lessons you've learnt from working in the local music industry?
I've learnt to celebrate every success. Many indie music fans think that people in general shouldn't support mainstream pop acts, but it's not true. I genuinely believe that when pop musicians break glass ceilings at a local level, it defines the standard for all other musicians to follow. If not for Stephanie Sun, JJ Lin would not have followed. If The Steve Mcqueens and Caracal had not performed at Summersonic, Charlie Lim, Linying, and The Sam Willows would not have been able to play the years after. As such, I cheer every win within Singapore's music industry.
I've also learnt the importance of perseverance. If God has put a dream in your heart, put in the hard work even though you might not see it come to pass in your lifetime. I still frequently quote John Chiong, founder of now-defunct local music label, Wake Me Up Music: "May our ceilings be the footstools to what you do next." This encapsulates what I'm here to do: to create new footstools for the next generation by breaking through old ceilings. Hopefully, my work will be a stepping stone to the next breakthrough that will come out of Singapore.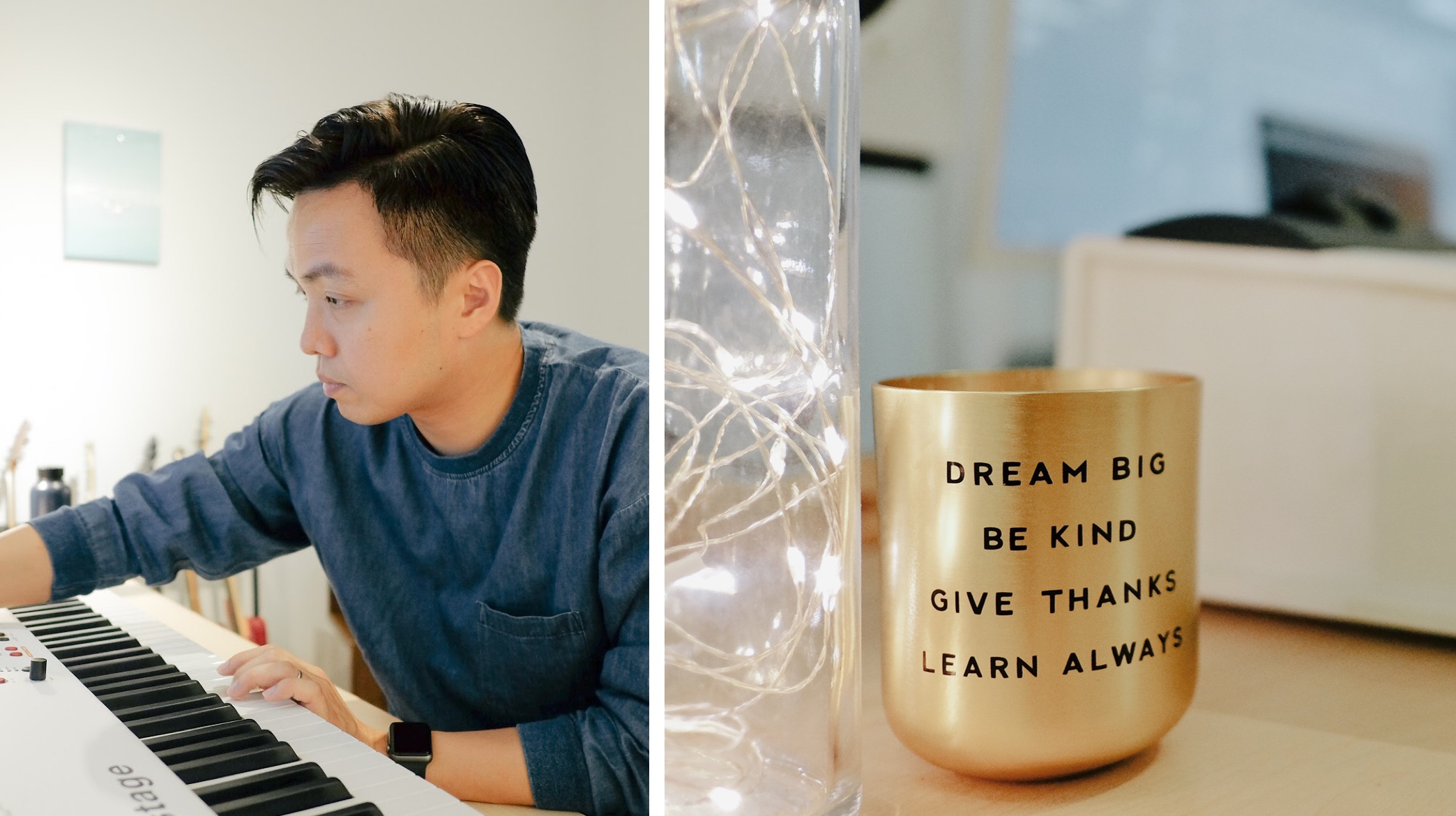 How have you grown from working in this industry?
I've become less impulsive. After many years in the industry, it is important to plan for the long-haul. In an artist's cycle, there are many ups and downs. Linying achieved a good peak after the release of her first EP, but she is currently taking time to ensure that her sophomore effort is a serious one. I've learnt that you cannot rush it. 
You have to consider what constitutes best practice and carry out your due diligence. It is important to surround yourself with creatives, put things in place, and don't act rashly just because you think it's ready. Ensure that the pieces are in place before doing so. 
What advice would you give to fellow believers who feel called to the local music industry?
Don't be drawn by the glitz and glamour. Each artist who has achieved any degree of success has worked hard to get where he or she is at. Just like every other decision you've made in your life as a believer, you need to be sure that this is something you are called to. I've interacted with many students and interns who are interested in a full-time career in the music industry, and I've always encouraged them to consider every other alternative path because a career in music is not easy! The individuals who do that and realise that they still want to return to music are the ones who are truly serious. 
Songs play a big part in defining the culture of a society. In the same way, songs do shape the theology and doctrine that a church believes in. As someone who has spent years building the local music industry, what can the local church do to build a culture of songwriting, with the intention of capturing what God is doing in Singapore?
It needs to start within the context of each local church. We need to write songs about our individual church's DNA and what the church is doing. The beauty of digital music is that when you upload it, all it takes is for worship leaders in Singapore to discover what different churches are currently singing. For example, Josh Yeoh's Reward is becoming a song of revival in the Methodist Church. It is touching lives and people are being changed by it. 
When Beep was created, we made an effort to grow the community of worship teams from different churches. We held ourselves accountable to church leaders — like Ps Barnabas from Christ Methodist Church, Ps Rupert from Cornerstone Community Church, and Ps Fabian from Covenant Evangelical Free Church — and they not only believed in what we were doing, but counselled us and kept us in prayer. It's exciting to see that what we were trying to achieve back then is now being accomplished by organisations such as Awaken Generation. 
What's next for you?
My local journey is coming to an end at the end of this month. I have stepped out of my current role to head up the office at a major label in Taiwan. While the main goal is to reach the massive populace in Taiwan, Hong Kong, and China, it's also a great opportunity to reach out to the Chinese diaspora from across the world. It is exciting to consolidate and strengthen the voice of the Chinese people in different countries across the globe.
---