A Thir.st x SELAH Collaboration
Written by: Joanne Kwok (Photo by: Ronald Lim)
"Wouldn't it be nice if we had a Relevant Magazine in Singapore?" I found myself asking this question back in the early 2010s, sometime after I'd graduated and was wondering how I could creatively contribute to the Kingdom.
It was a rhetorical question.
In our own quiet spaces, we appreciated the faith-based, culturally savvy content that had made its way from the USA to our digital shores, even though there was always something slightly misaligned for the local reader. We didn't always understand the references to American politics or their cultural landscape, and neither were their Christian young adult issues always resonant with us. A Singapore-centric Relevant was the dream.
But it was a stalemate.
We had never seen anything close to a "Singapore Relevant" on our social media radar, much less local editions of DesiringGod or The Gospel Coalition. By the looks of it, we probably never would.
Producing quality digital content with frequency was going to take a full-time job, my friends and I concurred, every time this topic was raised. Most of my peers were waist-deep into our first jobs, barely able to enjoy a stress-free weeknight. If we were still serving in church, that meant that our weekends were packed too. Moreover, where would the money to do any of this come from? The dream would remain a dream.
Until one day in 2015 — I was scrolling through Facebook one Sunday afternoon and a post from selah.sg caught my eye. It tackled a familiar Singaporean topic, so it had to be local, but it was all polished and hipster, and the writing was on point for a young adult reader.
I don't remember which article it was, but I will never forget how it made me feel.
"Thank God someone's finally done it."
SELAH sees first light
In 2013, a 23-year-old Joseph encountered God in the Scandinavian woods. He was on exchange in Copenhagen, Denmark, at this time, when God addressed the growing discontent he'd long felt in his heart over Singaporean Christians having only western literature to read online.
He tells me this in the most millennial way over Skype, in a midnight conference call with two of his SELAH teammates, Lemuel and Natalie.
There are 10 of them in the group — church friends who've been "super tight" since their teens. From what I gather, they were the teenage version of the Acts church: Studying together, hanging out regularly, staying over at each other's houses, even holidaying together. They prayed and worshipped together.
"But we all felt a dissatisfaction that there had to be more to life than just hanging out," Joseph admitted. "We felt that there could've been a reason why God had put such a diverse group of individuals together."
When Marvin, one of the members from the group, dropped by Copenhagen for a visit and told Joseph that the rest wanted to work on a project together, it immediately clicked with the dream that he had been keeping in his heart. When he returned to Singapore, he pitched the idea of starting a hyper-local, faith-based website to the group.
"I remember hearing Joseph asking with raw passion: 'Aren't you all pining to read content that is relevant to Singaporean culture?'" Natalie said, and the three of them laugh as she re-enacts his speech.
"Personally I couldn't see it happening — God spoke to Jo, not me — but as I saw how everyone was getting on board with it, I started to think that God could do something with this, and we would be missing out if we were to just let it fly by.
It sparked something in me to believe in the vision, that if we put our hearts to it, worked hard, and obeyed God, the dream could be realised. And I could commit to what it was going to be."
Lemuel was one of the first few to cast a positive vote. "I'd already started a blog to write about my lessons from my Christian walk, but it was getting really hard to sustain alone. So when Joseph mooted the idea for SELAH, I thought it was perfect."
Not every member of the group was gifted in writing, but together they were a creative dream team: Photographers, videographers, singers, communication executives… And on August 8, 2013, SELAH held their first official meeting to bring the dream to life.
One of the first concept drawings of SELAH
Dreaming for a generation
"We just wanted Singaporean faith stories to be told and published," Joseph replied when I asked him about the big vision for SELAH in the beginning. "And over the years, people have told us that what we do has 'discipled the nation,' even though we're really not the most competent in the media publication space."
Their mission is three-fold: to glorify God in the edification of the Singaporean body of Christ, to inspire readers to pause and realign (their tagline, and also its Hebraic meaning), and to ignite Christ-inspired living.
"Christ-inspired living is a cornerstone of all SELAH does," Lemuel added, "We referred to it often in the early months, when we were still figuring out what we were doing.
And now that we all have full-time jobs somewhere else, we also try to pause and realign ourselves first, because balancing SELAH with our other commitments can be really challenging."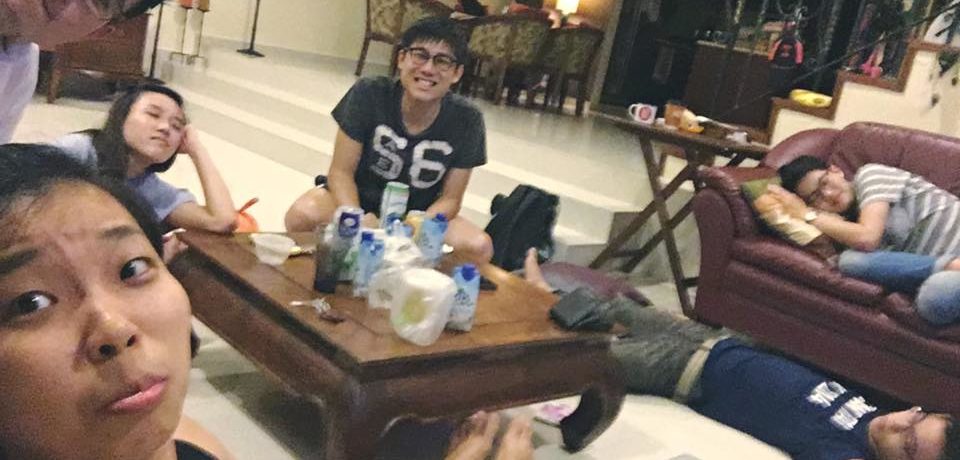 The struggle is real when meetings carry on past 1 am
The response to SELAH since they went live in February 2015 has, however, proved the long fight worthy.
"We wanted to throw in the towel at least three times before the launch," Joseph shared. "It was a coordination nightmare."
Natalie interjected, "We couldn't even agree on whether we were good enough to call ourselves a 'magazine'!"
But the initial rate of uptake surprised and humbled the team, and keeps them doing what they do. "Comments like, 'Wah, that was a good article, I was really blessed' help keep us going," Lemuel said. "Writing is an incredibly personal experience and some articles draw from places so deep within my soul, making it a very difficult process."
Natalie, also one of the main writers, agrees. "Needing to bare your heart on the Internet is a struggle. I ask God, 'Why do You have to take me through such pain in order to produce this article? What or who is it for?'
But as God has laid it on our hearts to steward these stories well, our hearts are constantly renewed to do so."
Four years and counting
On February 15, 2018, SELAH celebrates their 4th anniversary. It's also the start of a year that will see most of the team get married — including Natalie and Lemuel, respectively. Nobody knows how things will unfold from here for SELAH, Joseph said. But who knew they'd even be where they are today four years ago?
"I look back fondly on the moments of bouncing ideas off each other in the early days," Lemuel shared with a smile. "Back then, every article posted, every interview done, every image taken was a milestone. We celebrated every little thing."
A huge milestone for the team was when people actually showed up for SELAH's first worship night at CHIJMES (Photo credit: Marvin Lowe Photography)
SELAH partnered with RiverLife Church for a Singapore-inspired sermon series, MAJULAH, in 2015
"We all knew Ronald would be the very first one to fall asleep during our meetings," Natalie added in jest. "We're more 'business-like' today."
"Business-like" has even meant creating a separate work-related Whatsapp chat for the group of friends, as not everyone is in the SELAH team.
While things may continue changing as the team grows up, the work is far from over for SELAH.
"The digital space is where transformation happens in this day and age, and we have a mandate to put something out there that is relevant to a Singaporean," said Lemuel, his tone now serious. "I love Singapore and I want the church in Singapore to be strong."
Joseph agreed. "With SELAH, we've always wanted to break that perception of Christian perfection. The narrative we've tried to write is that we're all struggling, and we all need grace. We all need saving, and help, and God."
It's the same heart that Natalie has for their contributing writers. "I wish we could disciple our contributors more," she shared later, in another conversation. "That I would be discerning and sensitive to what the Lord is saying to the one who's writing the story.
"I believe God wants transformed lives over great stories."
And over 180 of those great stories later, I can still say: Thank God someone's finally done it.
• • •
This article was written in collaboration with Thir.st.
Born and bred in Singapore and for the region, Thir.st is an open, inclusive digital platform for young adults to gather and engage in conversations both timely and timeless for their generation. To challenge, but also to support. To provoke thought, but also to speak life.
Read the full story at http://thir.st.
---