Written by: Sherman Wong (Photo by: Daniel Chaney)
Interview with Alarice
After I graduated from university, I had the opportunity to intern at Oops! Asia Singapore, a Christian music ministry based in Singapore. It was then that I met Calvin, Alarice, and the Awaken Generation team. I was blown away by their humble heart of service to God. While they are incredibly skilled in their craft, I could see that each of them had brought their talents as sweet sacrifices to the foot of the cross; what remained was a pure, burning desire to serve, equip, and mentor the Singaporean body of Christ. I had the opportunity to interview Alarice Hong (Director of Awaken Generation), and hear her heart for our generation of worshippers.
You are Kiwi and your husband, Calvin, is Malaysian. How did you two end up in Singapore?
Surprise! Calvin is way more kiwi than I am. He spent 20 years growing up in New Zealand, while I only spent a year there because my dad had to move elsewhere for work.
In 2010, the Lord called me back to Singapore.  Even though I have grown up in 7 different countries, my parents and larger family are all from Singapore. I would come back once or twice a year. I'm rojak, but I've always felt most at home in Singapore.
Ever since I was a little girl, the Lord had tied my heart to this nation; I remember listening to a few National Day songs and started weeping. It sounds embarrassing, but the Lord was doing something in my heart to serve this nation. Hence, when I got an invitation to be a part of Oops!Asia Singapore, a music ministry, I knew that the Lord had created an opportunity for me to return.
My husband came over to Singapore in 2011. He was pretty happy in New Zealand, but he felt that he had reached a "level of maturity" there. He was therefore ready for the next chapter God had in store for his life. Calvin was invited to be a life coach at the Singapore Boys' Hostel with Trybe (a youth development organisation) and moved soon after. We met in church and the rest is history!
Calvin and you started Awaken Generation (AG), a music school, last year. What did God place in your heart for this school?
We launched Awaken Generation this year with 49 students from 27 churches. However, the DNA of Awaken Generation had already been solidified in our heart and character for years. Individually, Calvin and I were mentored by "fathers" and "mothers" of the faith for some time, and we knew that mentorship was the one thing that had such an impact on our lives in shaping who we are today.
We knew that in Singapore, a generation was hungry not just for leaders, pastors, or bosses, but for fathers and mothers. They were seeking for people who would invite them into their homes and open up their lives; they were looking for people to walk with them, celebrate their victories, affirm their gifts, and correctthem in love. As the Lord had placed such mentors in our own lives, we wanted to do the same for others.
The Lord has given me a call to walk in Praise & Worship, and for Calvin it has always been discipleship and evangelism. We knew that if we were to start something, it would have all these elements with mentorship at the heart of it all. This was how AG started!
This must have been such a faith-filled journey for the two of you. Were there moments where you've felt discouraged?
When we started AG, we had no idea if people would even come. I thought if we only had 10 people to be a part of it, I would be happy. I remember a friend, who was our prayer intercessor, called in December 2014 and asked me how sign-ups were going.
When we still had few applicants at the time, she asked me, "Alarice, how many sign-ups would it be for you to say, 'This is crazy and it can only be God'?" With a tinge of laughter in my tone, I said, "Oh! If it goes past 40, that's definitely God. I don't even know if we have the manpower to handle that number of students!"
It was a nerve-racking time, and it would be discouraging if no one came. But in the end, we were committed to walk this through with the best of our ability no matter how many people signed up, and we trusted God for the provision. In the end we had 49 people, and I believe that the Lord allowed it to remind me that "Hey, this is crazy and it's really me!"
What is the one verse that has anchored you throughout this whole process?
One principle that has guided me this year (and even the years before) is the concept of stewardship. In Luke 16:10 it says, "Whoever can be trusted with very little can also be trusted with much…" I recognise that AG does not belong to Calvin and me. Instead, the Lord has entrusted it to us and we have to steward the lives that have been given to us. 
My desire is to be faithful with the finances, relationships, and lives that the Lord has entrusted to us. We seek to multiply it by investing and serving well. We trust God for the growth and multiplication.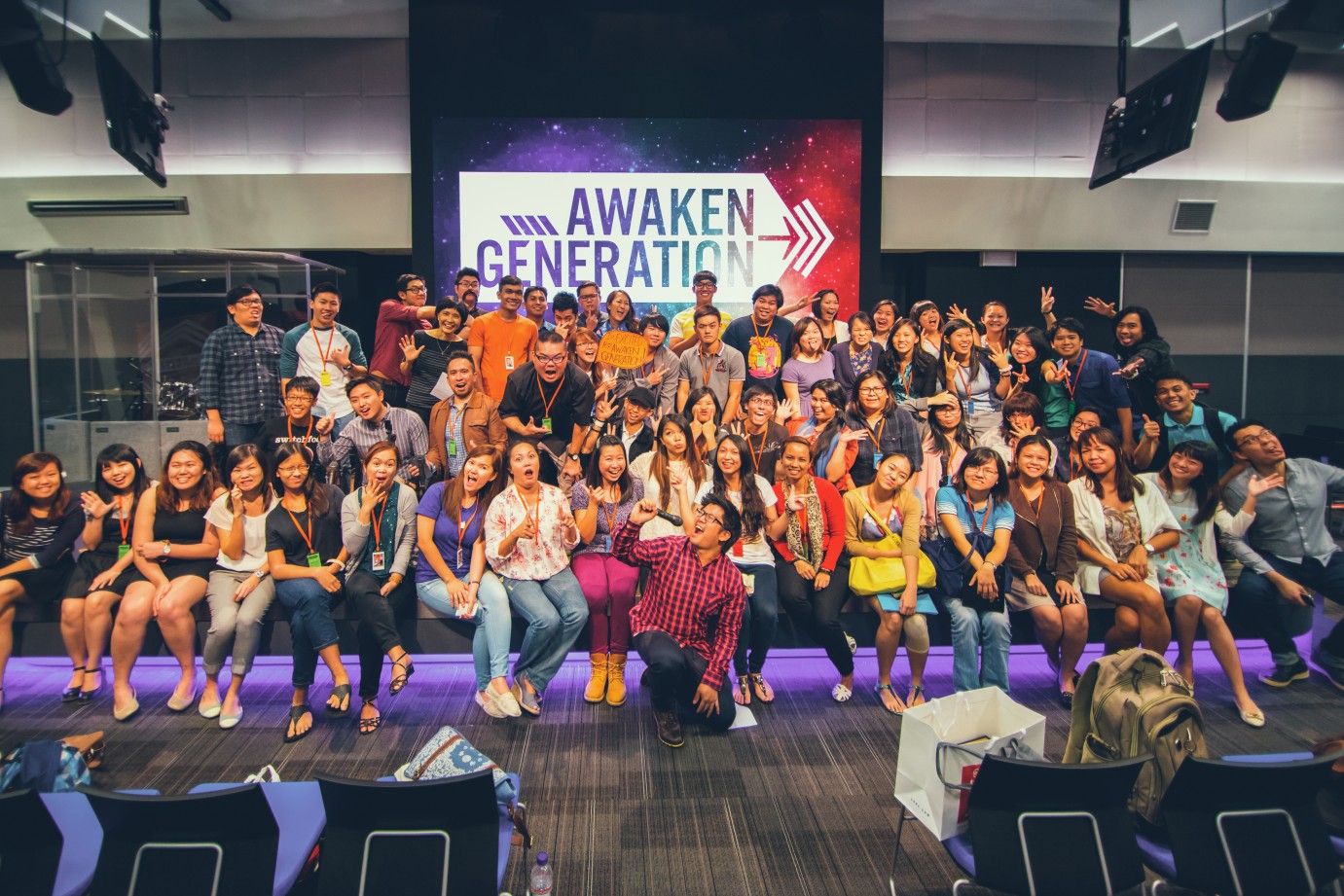 The first batch of Awaken Gen-ers has just graduated! How did it feel as co-founders?
Yes, our first batch of Awaken Generation babies! We are so, so proud of them. When many of them started out, they wondered if they had made the right decision to come. But they stayed on in faith and were transformed week by week; they made incredible friendships with other musicians and worshippers, and man do they have testimonies to share.
At our AG Graduation, one of our students shared that AG has changed the trajectory of her life. Due to the culture of affirmation and the testimonies of the mentors, she finally had the courage to pursue a dream that the Lord had deposited in her many years ago: to produce and arrange music full-time. I can share now that she is living that dream for the Lord!
What was the most memorable moment during the school term? 
The most memorable moment for me occurred in March during Convergence – all the streams came together for worship and Calvin shared a message on Servanthood vs. Stardom. The Lord had specifically spoken to Calvin to honour our students by washing their feet, just as Jesus did for His disciples. I remember that the Spirit of God was so tangible in the room when the mentors prayed and prophesied over the students. Many shed tears of healing and restoration and I believe God that was binding the cohort together as a community of worshippers. It was incredible.
Having taught a host of students from different churches, what do you think God is doing in terms of worship in Singapore today?
I believe that God is releasing the freedom for us to be sons and daughters. During worship, we can get caught up in the "performance" – we try to replicate another person or think that we are supposed to sound like or look a certain way when we lead. It is when we first recognise our identity in Christ as His beloved daughter or son that the purest of worship flows.
I also believe that the Lord is releasing the prophetic voice of worship to arise. This means that musicians are free to step out into the "unknown" and sing a spontaneous/prophetic song or release a Word in season as they lead. It has been a great journey in enabling our students to explore this at AG's Worship Nights, in which they are free to follow the Holy Spirit's leading.
What is one thing that worship teams take for granted today? 
One of the things that we teach at AG is the culture of honour. I know of many people in the worship ministry who have disagreements with their worship pastor or senior pastors, whereby they carry these offences in their hearts. I think that worship ministries could do better at recognising the privilege of having a senior pastor to lead the church.
Oftentimes we may get disgruntled if we feel our creativity is stifled or our song choices are disregarded, but we need to walk in the culture of honour, and be thankful for the spiritual authorities God has placed over our lives. They see things that we cannot see, and we need to be able to walk in unity with these appointed leaders.
What is one piece of advice to worship ministries in Singapore?
It is important to create a "greenhouse effect," especially if you are a worship head/director. As you control the "temperature," "humidity," and "sunlight" of the greenhouse, you ensure that the seeds are able to bloom and flourish to their greatest potential. This is done by cultivating a culture where creatives can thrive in their gift, and where they can be pastored and guided well.
With a culture of creativity, honour, and affirmation at AG, we have seen the students flourish because of the culture and community. When you see your sheep as though they were your own children, what would you do to see them grow into mighty men and women of God?
Registration for Awaken Generation 2016 is now open. What can people expect when they join Awaken Generation?
If you want to be equipped and empowered in your call as a leader, join us! I'm especially keen on seeing more male songwriters rise up in 2016 as all the songwriters we had this year were ladies. Do not let finance be your decision maker, but prayerfully seek God and He will provide. Our website also offers ways where you can raise financial support.
Get ready to be refreshed. One of our students was afraid of committing to AG because of her university projects, but she eventually found it to be a place of inspiration and impartation. AG was not just another chore on her "to-do" list; it was the place where she was refreshed to do the very things she was called to do well.
Get ready to grow into another level in your musicianship, alongside a community of like-minded worshippers, and of course, be propelled further into the destiny Christ has for your life!
Apply now for Awaken Generation at: http://www.awakengeneration.sg/course-streams/apply-now/
---