Words by: Charmaine Foo (Photos by: O+)
Interview with O+
"But as for me and my household, we will serve the Lord." (Joshua 24:15)
I caught a glimpse of the power and beauty of this verse as I sat down with two generations of the Hwang family — the artisans behind homegrown eyewear label, O+. Having made mistakes and gotten to the brink of bankruptcy, I learn of their trials and triumphs in building this family business. Dad and Mum, David Hwang and Brenice Ong, along with one of their two sons, Silas Hwang, share with me the values that have taken precedence over business strategies and pursuing the latest technologies.
Prior to O+, you already had been in the optical business. Could you share more with us?
David: I started in the industry at 15 years old, working for another optical business. After finishing army, I had the desire to run my own business but had no money, so I spoke to my dad and we tried to look for an investor. In the beginning, it was tough as no one believed in me, and I was still a "young boy" in their eyes. Thankfully, after months of searching, a friend decided to invest in the business and we became partners. The business did well for 2 years but shortly after, my partner wanted to take over the business and it did not end pleasantly.
Nonetheless, God was so good and sent a good lawyer who helped me fight the case, and I managed to gain back some losses. By that time, I was 23 years old and had also just gotten married to my wife. I knew in my heart that if I wanted to get married at such a young age on top of running a business, both of us had to come before God; if not, a marriage would not be possible and our lives would not be stable. My wife and I surrendered our lives to God and since then we have never looked back. With our five loaves and two fishes, we started a family and founded our holding company, Eden Eyeland, which now houses O+ — the retail arm.
How did O+ come about?
David: In 1985, my wife and I started Eden Eyeland; it was an ordinary optical shop. Fast forward to October 2014, we officially closed Eden Eyeland (just the retail store) which was located at International Plaza for almost 20 years. Together with my sons, we decided to undergo a full rebranding exercise of the company and refresh our product offerings. We wanted to fill a gap in the market to offer accessible, well-designed glasses that were high in quality. This was how O+ was birthed — aptly named after the blood type of the entire family, including my sons' spouses (who are not involved in the business).
As the business continued to grow, were there moments where your faith was tested?
David: While we were operating Eden Eyeland as a retail shop, we sold many designer eyewear brands due to few competitors. As the years progressed, my hunger to grow rocketed. Therefore, in 1995, I decided to venture into a wholesale business, and set up chain stores. Within 3-4 years, I lost almost everything because of poor business decisions and to make matters worse the 1997 Asia economic crisis hit us real hard. I had lost close to S$3 million and debts began to pile up one after another.
During this period, I was serving as a deacon (in my previous church) but was a "walking skeleton" serving the Lord. It must have been one of the lowest points in my life because I thought that I didn't need God and was self-sufficient with my know-hows and money. This very mindset and attitude eventually caused me to lose everything I had.
"Pride goes before destruction, a haughty spirit before a fall." (Proverbs 16:18)
I recall being so desperate that I submitted myself to the Lord and surrendered everything to Him, just like how it was in my earlier days of marriage. This was also the period when I revamped the wholesale business into an eyewear design and manufacturing company with no resources, and Emsley was born. I told the Lord to take over the whole business (Emsley and Eden Eyeland) and my family. By the grace of God, I managed to set aside more time to spend with my family, and decided to keep my retail shop running despite the bad outlook. Over the next few years, things still did not pick up; however, as a family, we went through each difficulty with God in the centre.
How did you cope with the loss?
David: To be honest, I struggled to recover from the huge loss, even after surrendering my life and business back to God. It hit me especially hard that I was going to be bankrupt. Beyond juggling these fears and concerns, business still had to go on, so I flew to China for a work trip. All by myself, I felt so low and entertained thoughts of wanting to disappear from the world. Knowing that my family was still back home, I could not bring myself to do anything.
One fine day in Shenzhen, I strongly believe it was the Lord who showed me this book, Stop Worrying and Start Living, which was featured in a Chinese newspaper. I read the book twice and there was this powerful kairos moment where I felt that I needed to restart my life. After the business trip, many life-changing transformations started to take place. I put my whole heart and soul into seeking God and spent time with my family, but this time, from a position of rest and knowing my identity. Furthermore, we started to tithe faithfully, and God has really blessed us.
As a business man, I have a motto which till today I believe in and live by: "Where your money is your heart follows also." I believe that all that I have — including my money — is from the Lord; I choose to give it all back to Him and that's where my heart will be.
Silas: A lot of times people only see the harvest and not the sowing; I believe that times of sowing are equally important; even in the midst of loss or adversity. I thank God that my parents are generous people who always give unto the Lord. This has blessed our family and the business.
Were there temptations that have threatened to divert your focus away from God?
David: I've had many customers or big buyers who would offer me "good deals" (six figures every year) and I could have easily accepted these deals behind my family's back. Thankfully, I was convicted that integrity is everything in business. While nobody may know what I've done, my Lord is watching over me, and this means that I cannot speak boldly or claim to be a righteous witness when I am not walking in the right ways. Integrity is also not integrity until you've been tested.
Brenice: Whatever deal comes our way, we always pray to the Lord that he will close the door if it is not from Him, and we trust that he will provide the right or better one. Many times, the customers or deal may look promising, but we will surrender everything into the hands of the Lord and trust that He has the best plans and will empower us to prosper, as it says in His word in Deuteronomy 8:18. Through the years, God's goodness has been so evident to us.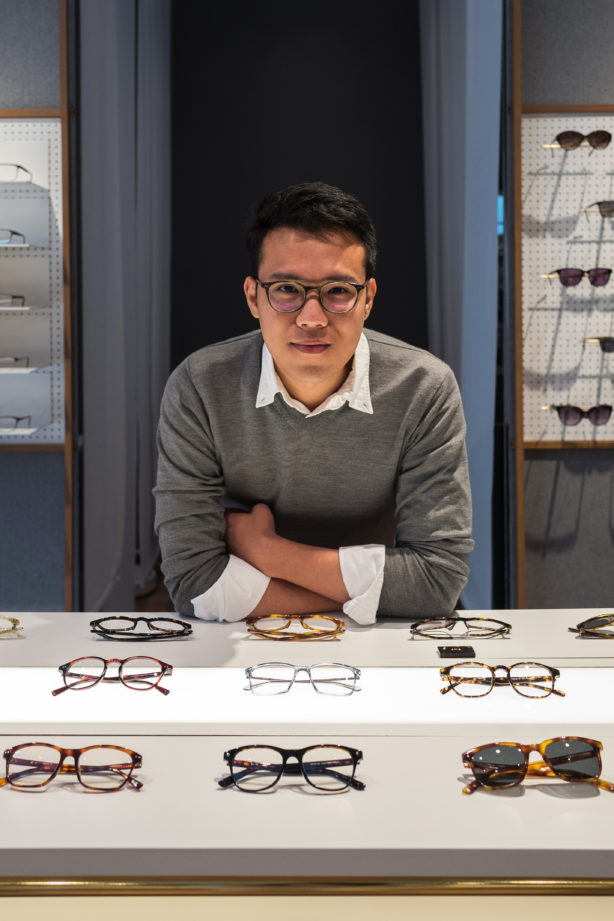 Your children are all involved in the business now. How did this begin?
David: Growing up, my sons always came along with me for business meetings so they were exposed and got to know about glasses, the industry, and gradually gained interest. When Silas was 16 or 17 years old, we needed a system to follow up with the orders for the manufacturing process. There was no ready-made programme, hence I tried asking a programmer to write it, but they quoted me a six-figure sum. I obviously couldn't afford it.
One day, Silas came to my office, and even though he didn't know what to do, he decided to give it a go. He didn't study IT, but loved computer and programming. Amazingly, Silas came up with a successful programme within a week. It was such a miracle to me! We still use this system today, and I barely spent anything on it, except his current salary!
Could you share with us on the rebranding exercise of O+?
Silas: In 2012, I finally decided to join the business full-time and felt that we needed to rebrand the business. For my dad, he wanted to bring to Singapore a 1-for-1 retail concept inspired by one of our biggest UK customers, where customers will get 2 pairs of glasses for the price of 1. This was a new promotional strategy in the local market and it took off pretty well. As a family, we did a first round of rebranding to O+ and moved to Ang Mo Kio Hub. After 2 years, we realised that the space and target audience were not working out for us so we moved out. While we made a mistake, we learnt what was the best direction for us: what worked, and what did not.
On the very day of our exit, we received an invitation to come to Downtown Gallery (our current location), hence it's not something that we had planned — God intervened at the perfect timing.
How do you deal with conflict?
Silas: My mum is usually the mediator. Whenever we have disagreements, we don't hold onto it. Since young, my dad has always taught us not to let our anger go beyond the sunset.
Brenice: Coming together as a family to talk about the love of God really helps. From young, we have made Jesus in the centre of our house in every aspect, and we intentionally share about the goodness of God whenever we get the opportunity (Deuteronomy 11:19). Whenever we return home, we share with the boys how the Lord has brought us through hardships.
David: I have learnt that I cannot take this familiarity with my sons for granted, and must intentionally listen to the kids, so they don't get hurt. I often ask myself: "If Jesus was the Father what would he say?" I'll keep it in mind and rely on God to teach me how to guide my sons and lead the family.
As a family, what are you most thankful for?
Brenice: I am so thankful that God has given our children a pure heart towards the Lord. It's all about child-like faith, whereby we don't look at the situation and instead rely on such faith to solve our problems and meet our needs.
David: Without my two sons, I won't have O+. But more importantly, if I don't have God today, I won't even have my two sons. The entire business is a miracle and I am so thankful to God for His blessings and providence.
Silas: Apart from the financial freedom we are experiencing, I've been through my own journey as a rebellious son, and I'm really grateful that by His grace, I am where I am at today, with a beautiful family and the privilege to serve the Lord in His house.
---