Written by: Charmaine Foo (Photos by: Nelson Yap)
Interview with Nelson Yap
Four years ago, I witnessed sparkling golden rain for the first time ever at Singapore Fashion Week. As shimmering confetti filled the air, the crowd went wild, cheering uproariously at the final runway show of Benjamin Barker — a homegrown menswear label. This spectacle soon became the talk of the town.
Little did I know of the backstory of this moment. God had orchestrated divine opportunities for the Singaporean brand to hold its first standalone show on Saturday night — this was the prime-time slot, meaning that not only high costs were involved but huge risks too.
Through the years, this has been just one of the miracles for Nelson Yap, founder of Benjamin Barker. In an interview with SELAH, he shares the humbling journey of building a brand from the ground up. Even though he may be at the helm of one of the most successful menswear labels in Singapore, Nelson also bares his soul on areas of his life that God is working on, and how he hopes that the business can help to change lives for the better.
Growing up, did you always know that you were a creative person?
As a child, I was always regarded as the "black sheep" of the family and a misfit in school. Everyone would know me as the guy who slept through classes, and all my teachers had given up on me. During that time, I had absolutely nothing to look forward to in life.
My parents eventually decided to send me overseas to further my studies. I packed my bags, and headed to Melbourne. It was in this city when I discovered something I was passionate in. There was something about Melbourne that stirred the creative side of me, and I eventually chose to study film and photography. The culture and infrastructure of the city were perfect for creatives to discover themselves.
What caused you to return home in the end?
In 2005, my dad contracted terminal cancer, and this meant that someone had to step up to run his business. My dad was selling discounted suits and shirts at a warehouse in MacPherson. Back then, my sister was too young to run the business and my brother was not interested in helming it.
I was quite torn about whether to head back to Singapore or not, because I finally felt that everything was in a good place: I was the teacher's pet, I was close to getting my Permanent Resident status, my lecturers had offered me jobs, and I had found a close community of friends.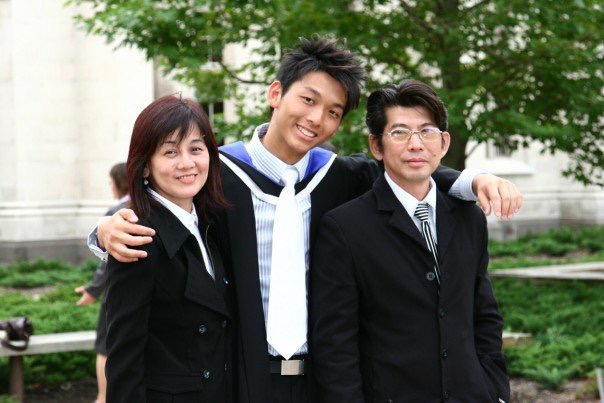 Everything changed with one phonecall. I was celebrating my birthday with my care group when my dad called me from Singapore and said "I love you." I broke down and knew his condition was deteriorating. Those words meant the world to me because growing up, my dad was a strict disciplinarian and our relationship was dysfunctional. I had never felt close to my dad and it was the first time he ever said that.
The following week after that call, I made up my mind to return home to help the family business out; I packed my bags for good, gave up my student loans, and pulled out of school.
Shortly after returning home, my dad passed on.
How did you equip yourself to take over your father's business?
I knew nothing about business, and honestly, I didn't have any desire to run it. My dad and I couldn't see eye-to-eye on many things and we ended up fighting a lot. Many times, I felt like I was making his condition worse! The first two years were the toughest as the business was not doing well. We were in huge debt, stemming from house mortgages and business loans.
Every day, I was using my survival instinct to find whatever means to grow and improve the business. Not knowing what to do, I eventually fell into depression. I remember feeling especially frustrated when I saw my peers making progress in their careers and leading such comfortable lives.
How did Benjamin Barker come about?
Actually, the back story of the brand name "Benjamin Barker" came about even before I thought of starting my own outfit.
The name "Benjamin Barker" was inspired by a sermon that my pastor was preaching. I was going through a difficult season then and was desperately looking for answers. My pastor was preaching about how we were living in the Benjamin Generation —  that we were a favoured generation; a generation of grace. That really spoke to me.
What sparked the idea of opening a physical Benjamin Barker store?
My wife and I came across a leasing ad for a retail space at Marina Square. It was crazy to even think about having our own physical store at that time, considering how we were struggling to keep afloat.
But my wife encouraged me to arrange a meeting with the landlord, and so we did! That was when I began to dream of opening our own Benjamin Barker store in a shopping mall. My mum, however, was hesitant given the high rental fee. Even after many rounds of negotiations, we were still unable to reach a mutual agreement with the landlord.
One day, I bumped into the leasing person in church! She was sitting right beside me, and I found out that we both attended the same church! Obviously, I kept thinking, "Could this be a sign?" 
The week after, I went down to Marina Square and asked God to give me a confirmation as to whether we should open a store there. He kept giving sign after sign, and I found the peace to sign the lease agreement.
I still remember going into the storeroom to pray and crying out to God to please bring people in. Till today, my wife never fails to remind me of this.
As a believer, how has your faith impacted your business?
Honestly, I wouldn't say I'm someone who's "super holy." The struggle to follow God everyday (or to have faith in certain situations) is so real for me.
On the outside, the company may be growing steadily and winning awards, but I struggle to feel fulfilled. There are times I feel empty inside despite the constant validation and encouragement from people. 
However, I've come to learn that we're all not perfect and everyone is a work-in-progress. I'm still trying to figure out and understand my full identity as a son of God. Most of my team who have been here at Benjamin Barker for the longest time are also people who seem to be the most imperfect, broken, and yet so willing to be used by God.
As a Christian, the difference in running Benjamin Barker is knowing that I'm accepted by God. That's my biggest saving grace. I'm in a real world with broken people who need grace daily — just like myself. I can't deny God, and His relentless grace, as well as love over my life after seeing everything that has happened in my business for the last 10 years!
You are today leading a team of 80 people. Did leadership come naturally to you as you expanded your team?
Definitely not. I'm not a natural leader. In the past, I was especially antisocial and introverted. However, I have to lead a team of 80 staff, and it's my responsibility to guide them to the right places. I needed to step out of my comfort zone and grow into my role.
I had to learn to be comfortable with own leadership style, and God never fails to remind me that I am accepted, clothed in grace, and He will see me through.
What keeps you inspired as you helm Benjamin Barker?
I think I have an insatiable desire for growth. I love to experience, do, start, and learn new things. Thus, I read and travel a lot to keep myself inspired. Every morning, I'll also listen to a sermon on the way to work. It prepares me to face the challenges and serves as a reminder of who's the real boss.
In each season, we need to remind ourselves that God is faithful. As I know that God is for me, it now takes me so much faster to recover from failure and bounce back from it.
Even when you're beaten down and you feel unworthy to be in the presence of God, I'd encourage you to read the word of God or listen to a sermon. You may not feel anything but with this act, God knows you're calling out, and things will happen.
Where do you see the business going?
We want to build ourselves into a global lifestyle brand. But beyond this goal, I want Benjamin Barker to be a business that has a positive impact in people's lives. Running a business means constantly having to upgrade yourself for your people and being in this position allows me to invest in people's lives, one at a time. I am grateful for this journey.
Discover evergreen classics with a vintage twist at www.benjaminbarker.co. Follow their journey via Instagram or Facebook.
---